What to Bring: Parents & Kids |  Volunteer Artists
Email jessica@cap.org for registration information.

The Creative Art Program focuses on education through artistic expression. The goal of the workshop is to get children really thinking and imagining themselves in a future with limitless possibilities.
Often children going through family and life transitions and challenges understandably have a hard time seeing past their current situations. Visualization is a great tool to get kids moving towards a successful future.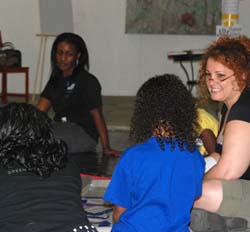 The workshop will do the following:
Provide children the power to use their voices through artistic expression
Strengthen children's minds and hearts through creative stimulation
Children will be encouraged to imagine, discuss, sketch and write down who they think they will be in the future
Encourage participants to expand their individual potential, build self-esteem, and create hope.
Allow an opportunity for local Artists to work with children, discussing favorite techniques, painters and styles.
A Gallery Opening and Reception are held following the workshops, showcasing the children's artwork. Volunteer Artists show their works along side the children.
Cost/Registration; "Creative Visions" art program is being offered *FREE OF CHARGE" . Participant space is limited and will be filled at a first come, first serve basis. Email jessica@cap.org for registration information.
Prints showcasing a collaboration of all the "Future Self Portraits" are available to the public for a small donation. Proceeds fund future programs to help at-risk children.
Email jessica@cap.org for registration information.

If you are interested in volunteering please visit our volunteer page.