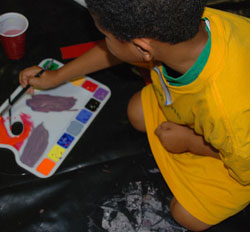 What To Bring:
Painters Smock; Or an old t-shirt. Wear clothing that can get messy.
Sunblock: We have a tent, however keep in mind this workshop is outdoors.
Signed Photo Release doc: If you don't mind your child being in photographs please bring the signed doc.
Future Discovery Worksheet (Optional): We will have worksheets at the workshop and plan to do a group discussion where kids can complete the worksheets.  However, they are welcome to bring it completed.  Do not complete the Artists Information section of the worksheet yet.
Download Future Discovery Worksheet PDF
Download & Print the Photo Release Document 
Wear layers. Might be a bit chilly in the morning!
Make sure your kids are wearing clothes that can get paint on them.  To be safe, have them bring a painting smock.  Any old and large t-shirt will work as a smock.  If you have extra bring them.  There may be other children that can use it.
What To Expect:
Take a preview of the workshop schedule.
*Important the schedule is subject to slight changes over the next month.  Be sure to check in the week of the event to make sure there has not been any changes.
Lunch & Snacks:
Provided By Julies!  Feel free to pack your child's own lunch if your child has special dietary needs.
If packing your own lunch and snacks keep in mind we do not have a refrigerator.
Workshop Menu: Included!
Coffee for the grown-ups!
Julie's Lunch: 4 quarters of tea sandwiches: 2 pieces vegetarian /2 pieces ham and cheese.
Julie's Drinks: Lavender Lemonade.
Julie's Afternoon Snack: Assorted biscuits and scones with cream and jam.
We will also have extra snacks on hand, Annie's soft chocolate chip granola bars & Organic Gala Apples.

Supplies provided by Flax Art & Design

Email jessica@ArtPush.org with any additional questions.