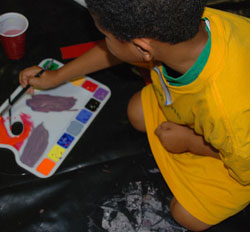 Kids Quiz : Download and Print the Kid Quiz Now
Get a head start and have your kids fill out the Kid Quiz to bring along.
Didn't have time? No worries. There will be volunteers helping the children get their Kid Quiz pages caught up.
Painters Smock:
Make sure your kids are wearing cloths that can get paint on them.  To be safe, have them bring a painting smock.  Any old and large t-shirt will work as a smock.  If you have extra bring them.  There may be other children that can use it.