Workshop Date:  Sunday, March 27th, 10:15am-3pm
Drop-off is from 10am-10:15am: Get more drop-off details and directions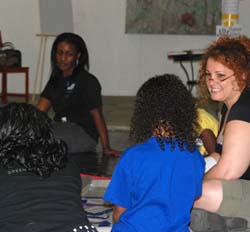 The workshop will do the following:
Provide children the power to use their voices through artistic expression.
Strengthen children's minds and hearts through creative stimulation.
Children will be encouraged to imagine, discuss, sketch and write down what their future may look like.
Encourage participants to expand their individual potential, build self-esteem, and create hope.
Allow an opportunity for local artists to work with children, discussing favorite techniques, painters and styles.
A gallery exhibit "The Future Is Female" will be held Sunday April 3rd at 6pm following the workshop, showcasing the children's artwork. Volunteer Artists show their works along side the children.
The art program is being offered *FREE OF CHARGE" . Participant space is limited and will be filled at a first come, first serve basis.
Email jessica@ArtPush.org for information.
If you are interested in volunteering please visit our volunteer page.